Pair the right flowers with these MaraNatha® Nut Butter treats
The optimism in the spring air is the perfect reminder to connect with the people in your life who matter most. What better way to show your appreciation than with a beautiful bouquet and an amazing appetizer made with our Nut Butters?
Read on to discover the symbolism of the following flower and appetizer pairings.
Pairing #1: Yellow Marigolds & Ants on a Log (MaraNatha® Peanut Butter, celery and blueberries)
Give to: A childhood friend
Marigolds are a symbol of creativity, and nothing unlocks the imagination like a nostalgic journey down memory lane. Send an invite to a friend that's known you for over a decade, but that you haven't spoken to in awhile.
While you catch up and renew your friendship, enjoy munching on a famous childhood snack, with a contemporary twist. After spreading our Peanut Butter on celery stalks, try topping with blueberries for an old classic that tastes new.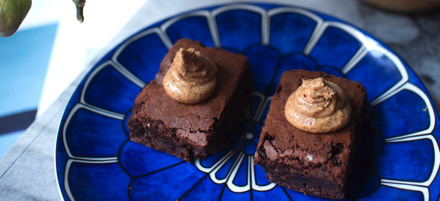 Pairing #2: Pink Tulips & MaraNatha® Almond Butter, Spicy Honey and Apple Slices
Give to: The most reliable person you know
Pink tulips represent affection and caring, so they're a fantastic way to reaffirm your own dedication to someone who is constantly there for you, always knows what words you need to hear and is game for any occasion.
To accompany your bouquet, you need a snack that's as dependable as the person you're sharing it with. Smother organic apple slices with our Almond Butter (a duo that's ever faithful) and add a note of spice and sweetness with a drizzle of spicy honey.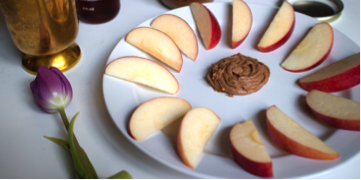 Paring #3: White Orchids & MaraNatha® Coconut Almond Butter Topped Brownies
Give to: Whomever you're sweet on
Due to their ethereal splendor, orchids represent love and beauty, which makes them the perfect flower to lavish upon that special someone for a stunning spring surprise.
But if it's true love, go a step further and indulge in a MaraNatha® spooning session together. Scoop two spoonfuls of tropical perfection (our Coconut Almond Butter) on to a pair of freshly baked brownies. Now that's gratitude that goes deeper than words.
Happy spring spooning!