Greet the A.M. with the heavenly, double ground texture of MaraNatha® Nut Butters
You know the mornings … the ones where you smack the snooze button a few times, before rising slowly to shake off the lingering clutches of dreamland, slowly piecing back together your five senses.
The most important step (at least for us) to that early hours revival, is re-energizing your senses of taste and touch. That's what motivates us to craft Nut Butters with a distinct, rich and pleasing texture, which we achieve through double grinding the nuts we use.
Grab a spoon, and elevate your A.M. experience with a heaping scoop (about 2 Tbsp.) of the following MaraNatha® Nut Butter varieties: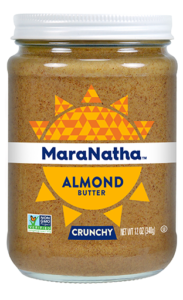 Imitators simply can't compare to the velvety smoothness and satisfying crunch of the Almond Butter we've been famous for since 1982. To start, we steam pasteurize our California almonds, before roasting them to perfection. Then, we make magic by grinding them twice and blending with three simple ingredients. Finally, we add in crunchy almond pieces, resulting in double ground satisfaction that can't be beat.
"Rich," "smooth," and "delicious," are all words that will long linger on the brain after a spoonful of our Creamy Peanut Butter. Set the tone for a splendid day with a perfectly made jar of delight. We use a special blending process after double grinding our peanuts, to create spreadable bliss that makes every morning magnificent.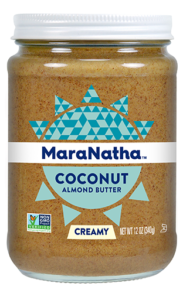 How about an early hours escape to the tropics to shake off those sleepy time cobwebs? We combine our roasted, double ground almonds with creamed whole coconut for a smooth, even texture that packs an incredible flavor, so you can kick off your next 12 waking hours in paradise.
Rise and (double) grind, ladies and gentlemen. With the remarkable texture of our Nut Butters: the day is yours.